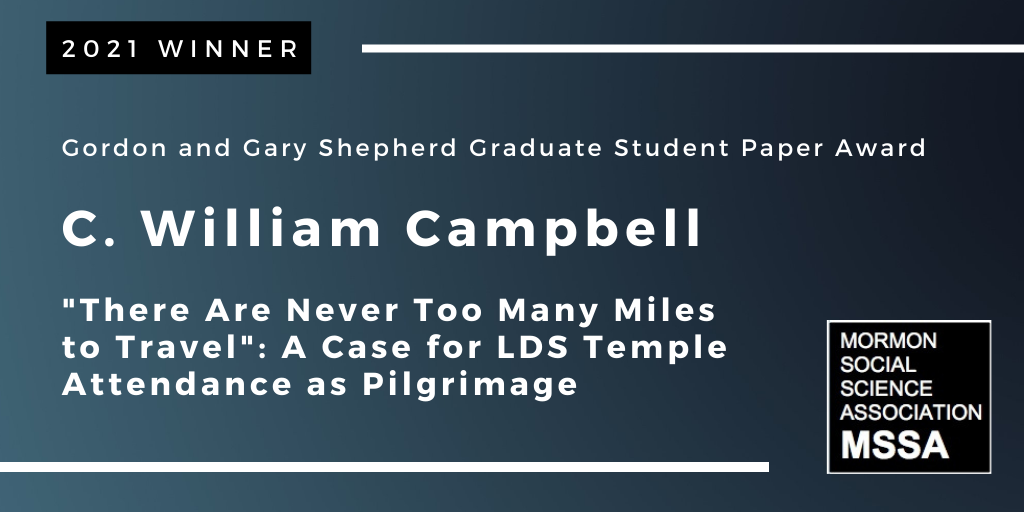 Congratulations to C. William Campbell, winner of the 2021 Gordon and Gary Shepherd Graduate Student Paper Award. This annual competition supports and promotes student research in the social scientific study of Mormon life. The winning paper, "There are never too many miles to travel": A Case for LDS Temple Attendance as Pilgrimage, was recognized for its excellence and contributions to the field of Mormon Studies. C. William Campbell is a doctoral candidate in the Department of Anthropology at the University of Victoria.
Read the abstract:
The existing scholarly literature that examines pilgrimage practices amongst members of the Church of Jesus Christ of Latter-day Saints (LDS) is limited to pilgrimage to historical sites and Salt Lake City's Temple Square. Otherwise, the literature states that pilgrimage is not an important aspect of LDS practice. This essay challenges this, arguing that pilgrimage is an integral aspect of regular LDS practice manifest in the form of temple attendance. I draw on official rhetoric, lay understanding, and scripture to make the case that LDS temple attendance constitutes pilgrimage. Furthermore, I draw attention to the way the conceptual tool of pilgrimage can direct the attention of social sciences to the ways Latter-day Saints move across religious landscapes and the impact of those movements.
About the award:
The Gordon and Gary Shepherd Graduate Student Paper Award recognizes and supports the work of graduate students who are doing significant social scientific research in Mormon Studies. It also encourages their active participation in the Mormon Social Science Association (MSSA).
Eligibility and Submission Requirements
To be eligible for the award, individuals must be enrolled as graduate students in a master's or doctoral program at a certified public or private college or university.
Student papers must address a topic relevant to the scholarly understanding of Mormon life, including either the social, cultural, or religious dimensions of Mormonism. Learn more at mormonsocialscience.org.