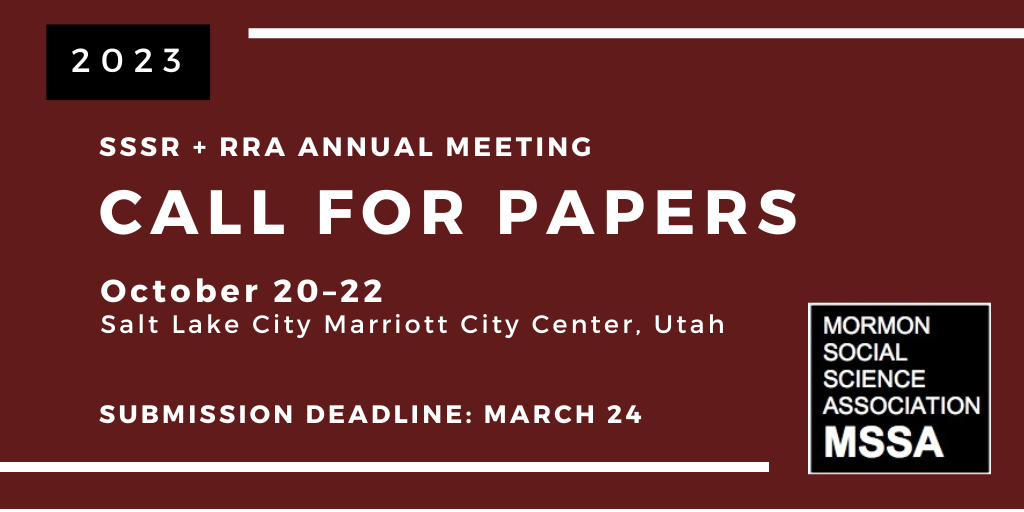 The Mormon Social Science Association welcomes paper submissions for its annual meeting, held conjointly with the Society for the Scientific Study of Religion + Religious Research Association annual meeting in Salt Lake City from October 20 to 22, 2023.
Given the Salt Lake City location this year, we are hoping to have a robust slate of programming, which will include multiple MSSA sessions, journalist Peggy Fletcher Stack as the Glenn Vernon lecturer, and at least one off-site event.
We invite contributions on all topics relevant to the social scientific study of Mormonism, with special interest in those featuring multiculturalism, gender/sexuality, post-colonialism, generational change, and questions of disaffiliation/retention. The theme of the 2023 SSSR+RRA annual meeting is Religion: Empowering or Oppressing People and Communities?"
The MSSA invites proposals for:
Individual Papers
Session Proposals
Panels
Author-Meets-Critics sessions
Submissions Open: February 1, 2023
Submissions Close: March 24, 2023
Questions: Dr. Jana Riess, flunkingsainthood@admin
DOWNLOAD CONFERENCE POSTER PDF
Join the MSSA
As an interdisciplinary and international association, the MSSA promotes the social scientific study of Mormonism and facilitates communication and collaboration among researchers, educators and students. Membership is open to all. We sponsor scholarly conferences, publications, panel discussions, paper sessions, and the biennial Glenn M. Vernon Lecture. Join us today.